Eva Zaïcik (W)
Mezzo-soprano
Révélation Lyrique of "Victoires de la Musique 2018"
2nd price of "Queen Elisabeth 2018" competition
3rd price of "Voix Nouvelles 2018" competition
Révélation classique de l'ADAMI 2016
"(...)une distribution vocale homogène en qualité, avec un coup de cœur pour l'exceptionnelle prestation de la mezzo soprano Eva Zaïcik dans le rôle de la marquise Mélibée, tessiture étendue, timbre chaud, aigus solaires, graves profonds, souplesse de la ligne de chant, puissance, diction claire, absence de vibrato... "
Il Viaggio a Reims - L' Education musicale - Avril 2015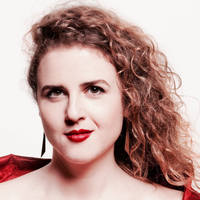 Mezzo-soprano Eva Zaïcik, awarded in the category "Lyrical revelation" at the "Victoires de la Musique Classique 2018", was also very recently awarded a 2nd Prize at the Reine Elisabeth de Belgique singing competition and a 3rd Prize at the french "Voix Nouvelles 2018" .
Previously awarded « Lyrical revelation of the ADAMI 2016 », she graduated this same year with distinction from the Conservatoire National Supérieur de Musique de Paris, where she studied with such masters as Elène Golgevit, Anne Le Bozec, Susan Manoff, Olivier Reboul, Margreet Hönig, Janina Baechle, Kenneth Weiss...
Very early noticed for her voice's warm tone and lenght and her stage presence, she was offered many roles in the season 2016/2017, including title role of Purcell's Dido and Aeneas at the Opéra de Rouen and at the Opera Royal de Versailles, a sensational Messaggiera (Monteverdi' L'Orfeo) as well as a 3rd Lady (Mozart's Magic Flute) at the Opera de Dijon, Caliste in Lully's Les Amants Magnifiques on a french tour alongside le Concert Spirituel ; she also made her debut at the Royal Albert Hall in London, during a BBC Proms concert with the ensemble Pygmalion, in Monteverdi' Vespro della Beata Vergine.
This season 2017/2018, in addition to her participation in the 8th edition of Les Arts Florissants - William Christie's «Jardin des Voix», with which she goes on a world tour, she appears again alongside the Talens Lyriques and Christophe Rousset, first at the Opéra de Limoges and at the Théâtre de Caen (3rd lady), as well as in Proserpine (Charpentier's La Descente d'Orphée aux enfers), in Dido (Dido and Aeneas) and Juno (Actéon) on a european tour. She sings again with Vincent Dumestre's Poème Harmonique, for Couperin's Leçons de Ténèbres in Versailles, roles of Lybie (Lully's Phaeton) at Perm Opera House and at the Opéra royal de Versailles, Maddalena (Il Terremotto by Draghi) in Ambronay and Rouen, as well as the "Au Cours du Monde" program, on tour in Mexico. She also sings alongside Justin Taylor and his Consort, in recitals around several baroque music programs, including one of French Cantatas, which will be recorded on the Alpha label.
An eclectic artist and sensitive musician, she meets all the forms of expression offered by the vocal repertoire, attentive to the dialogue of cultures.
Close to contemporary creation, she sang Nelly in the creation of Betsy Jolas, Iliade l'Amour in 2016, created several works of the composer Vincent Bouchot and was invited by of the Festival Européen d'Aix en Provence, the Festival d'Avignon and the Foundation Royaumont, to participate in the Oraciòn project, uniting Eastern and Western musicians. She created on this occasion a work by Ahmed Essyad, composed for her and the Tana Quartet.
Invited to sing on several stages in France an abroad (Philharmonie de Paris, Aix en Provence, Chorégies d'Orange, Avignon, Oude Muziek d'Utrecht, Festival Messiaen, Diaghilev Festival de Perm, Auditorio Nacional Madrid, Tchaïkovsky Concert Hall, Barbican Center, Royal Albert Hall ...), under the baton of such conductors as Leonardo Garcia Alarcòn, Vincent Dumestre, Marco Guidarini, Emmanuelle Haïm, René Jacobs, Cornelius Meister, Hervé Niquet, Raphaël Pichon, David Reiland, Christophe Rousset …
We already could hear her as Ottavia (Monteverdi 's L'Incoronazione di Poppea), Proserpina (Monteverdi's L'Orfeo), Melibea (Rossini 's Il Viaggio a Reims), Farnace (Mozart's Mitridate), Cherubino (Mozart's Le Nozze di Figaro), Judith (Bartók 's A Kékszakallù Herceg Vara), Diane à la Houppe (Honegger's Les Aventures du Roi Pausole) et Ernesto (Haydn's Il Mondo della Luna) with the Atelier Lyrique de l'Opéra de Paris.
Eva Zaïcik Web site
Photos
View all photos
Videos
View all videos