Emy Gazeilles
Soprano
Management: World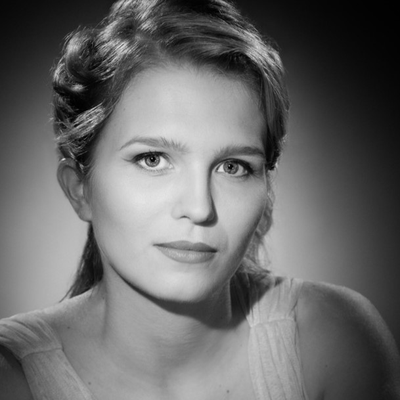 A right balance between elegance and virtuosity
Brigitte Maroillat - Forum Opera
Chorégies d'Orange 2023
Born in Avignon, Emy Gazeilles started opera singing after several years in the world of contemporary music and musical theatre.
She studied with Pierre Ribémont at the Conservatoire de Lyon and with Yann Toussaint at the Conservatoire National de Musique et de Danse de Paris, where she was unanimously awarded a First Prize in singing.
She perfected her skills with Antoine Palloc and the sopranos Annick Massis and Leontina Vaduva.
Prizewinner of several international competitions: the Arioso Lyric Competition in Nîmes, the Mélodie de Gordes competition, and the Young Female Talent Prize in the Symphonies d'Automne competition in 2021, she is currently a member of the 23/24 promotion of Génération Opéra, finalist of the prestigious Voix Nouvelles 2023 competition, and a member of the new Paris Opera ensemble this season.
Her young career has already led her to embody the roles of Gilda (Rigoletto, at the Théâtre des Champs Elysées and at the Opéra de Rouen), Iris (Semele, Opéra de Lille), Le second Elfe (Le songe d'une nuit d'été at the Opéra de Rouen), Frasquita (Carmen, at the Opéra de Toulon), or Susanna (Le Nozze di Figaro, at the Festival Concerts au coucher du Soleil at Oppède-le-vieux).
She also performed at the Cité de la Musique in Germaine Tailleferre's Concerto de la fidélité, together with the Orchestre de Chambre de Paris conducted by Chloé Dufresne, and at the Chorégies d'Orange during the 'Musiques en fêtes' festival (a concert broadcast live on France 3), with tenor Diego Godoy.
Emy Gazeilles is making her Paris Opera debut this season in the roles of Noémie (Massenet's Cendrillon), Pedro (Massenet's Don Quichotte), the Fire and the Nightingale (Ravel's L'enfant et les sortilèges); she also sings the role of Amour (Gluck's Orphée et Eurydice) at the Opéra de Toulon and Britten's Illuminations, with the Orchestre de l'Opéra de Rouen conducted by Victor Jacob.
Emy Gazeilles has been represented by RSB Artists since 2023.
Avant toute utilisation de cette biographie nous vous remercions d'en demander la dernière mise à jour,
par email
.