Julien Henric
Tenor
Représentation: Monde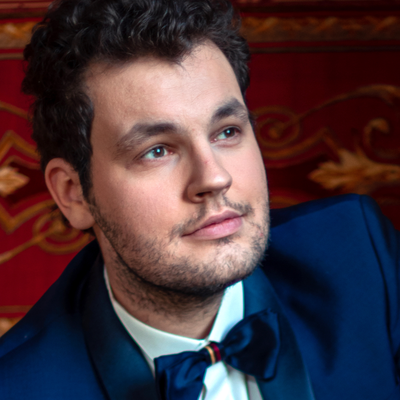 Don Ottavio wonderfully lyrical and never mawkish.
Philippe Venturini - Les Echos
Don Giovanni - Saint-Jean d'Acre 2022
After a season marked by his debuts at the Gran Teatre del Liceu in Barcelona and at the Opéra national de Bordeaux (as Don Ottavio in Don Giovanni and Ferrando in Cosi fan Tutte), as well as at the Festival International d'Art Lyrique d'Aix-en-Provence (as Flavio in Norma), Julien Henric makes his first steps at the Opéra national de Paris in the role of Marcellus (Hamlet by Thomas), then at the Ravenna Festival in Italy, again in the role of Don Ottavio.
We will also hear him at the Rouen Opera (Borsa in Rigoletto and Tybalt in Roméo et Juliette), at the Versailles Opera (Don Ottavio again), in concerts in Hamburg and Cologne for Norma (role of Flavio) conducted by Riccardo Minasi and as Alfredo (La Traviata) at the Festival d'été des Nuits Lyriques de Marmande.
Member of the Young Ensemble of the Grand Théâtre de Genève from 2020 to 2022, Julien Henric has performed the roles of Kutuzov (War and Peace), Sir Hervey (Anna Bolena), Ein junger Diener (Elektra), Pong (Turandot) and Janek Prus (Vec Makropulos).
Born in Lyon, he studied first at the CRR of Lyon, then at the CNSMD, from which he graduated in 2019. He perfected his skills in master classes with Roberto Scandiuzzi, Anaïk Morel, John Osborn and Ruggero Raimundi.
Winner of two prizes at the Concours international de Marmande 2022, of three prizes at the Raymond Duffaut Competition in Avignon in 2018, 2nd Prize 2019 of the Symphonies d'Automne de Mâcon, he was also named in the 2018 ADAMI Lyrical Revelation.
Also passionate about German Lied and Oratorio, he has already performed Schumann's Dichterliebe, Schubert's Winterreise (orchestrated version), and recently Lili Boulanger's Faust and Helen under the direction of Marc Minkowski at the National Auditorium in Madrid.
Julien Henric is represented by the agency RSB Artists since 2020.
Avant toute utilisation de cette biographie nous vous remercions d'en demander la dernière mise à jour,
par email
.