Roberto Rizzi Brignoli (F+B)
Conductor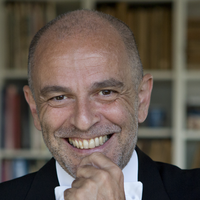 Considered one of the greatest conductors of today, especially for the Italian repertoire, Roberto Rizzi Brignoli began his career as Riccardo Muti's assistant in numerous opera and symphonic productions, before conducting Donizetti's Lucrezia Borgia at Teatro alla Scala in Milan in the 1997-1998 season, a production that will launch his career internationally.
Since then, he has conducted in the biggest houses around the world: Metropolitan Opera of New York, Teatro alla Scala of Milan, Opera of Rome, La Fenice in Venice, Puccini Festival of Torre del Lago, Teatro Carlo Felice of Genoa, Rossini Opera Festival of Pesaro, Sferisterio Opera Festival of Macerata, Deutsche Oper Berlin, Frankfurt Opera, Semperoper of Dresden, Staatsoper of Stuttgart, Teatro Real in Madrid, Teatro Municipal de Santiago de Chile, Bolshoï in Moscou, Théâtre du Capitole de Toulouse, Chorégies d'Orange, Opéra de Lille, Opéra de Marseille, La Monnaie in Bruxelles, Grand Théâtre de Genève, Festival d'Avenches, Opéra de Lausanne, Concertgebouw de Amsterdam, Nikikai Tokyo Opera, Florida Grand Oper...
He has also conducted a large number of operas and symphonic works at the head of the Verona Arena Orchestra, the Symphony Orchestra of the Teatro dell'Opera of Rome, the Carlo Felice Theatre Orchestra of Genoa, the Pomeriggi Musicali Orchestra in Milan, the Cameristi de la Scala, the Toscanini Orchestra of Parma, the Deutsche Oper Orchestra of Berlin, the Philharmonic Orchestra of Tokyo, the Radio Orchestra of Amsterdam, the Orchestre National de France, the Orchestre National de Bordeaux, the Orchestre de l'Opéra de Lyon...
Among his projects for the 2019/2020 season are Il Trovatore at the Nationaltheater Mannheim, Turandot and then Andréa Chénier at the Deutsche Oper Berlin, Un Ballo in Maschera at the Oviedo Opera, Nabucco at the Essen Theater, Verdi's Requiem at the Hamburg Staatsoper, Giovanna d'Arco at the Metz Opera Theatre and Lucia di Lammermoor at the Teatro Colón in Santiago de Chile.
Roberto Rizzi Brignoli records for Sony Classics and Warner Classics.
He has been appointed Music Director of the Teatro Municipal de Santiago de Chile and the Santiago Philharmonic Orchestra from the January 2020.
Management (France + Belgique)
RSB Artists
Tel: +33 6 747 617 97
Email: rsbweb@rsbartists.com
General Management
Boris Orlob Management - Ingunn Sighvatsdóttir
ingunn@orlob.net
Mobil: +49-173-2 067 821
Photos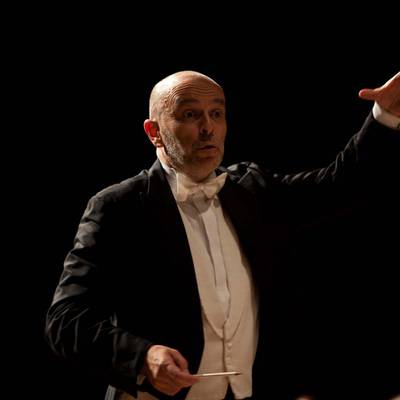 View all photos
Videos View all videos