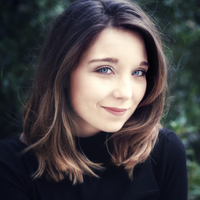 After studying piano at the Toulouse Conservatory, Sara Gouzy joined the Berlin Hochschule für Musik "Hanns Eisler" in 2010 to study singing with Janet Williams and Michail Lanskoi; she also studied for a semester at the Guildhall School of Music in London, with Susan McCulloch.
Winner of numerous awards (Winner of the Kammeroper Schloss Rheinsberg International Singing Competition in 2019, 2nd Prize and Melody Prize of the "Coop Music awards-Antonio Bertolini" in 2018, 1st prize at the International Melody Competition "Three Centuries of Classical Romance" in Saint-Petersburg (Russia) in 2014, laureate and scholarship holder of the Yehudi Menuhin Foundation live music now in Berlin in 2013, 3rd prize at the International Giulio-Perotti Singing Competition in Germany in 2012.), she made her stage debut in 2010 at the Weimar Opera, performing the role of Clotilde (Pollicino by Henze), then Cleopatra (Handel's Giulio Cesare) in 2012.
She then sang in John Cage's Europera 5, a show given in 2012 in co-production with the Berlin Komische Oper, as well as the title role of Das neue Rotkäppchen (creation of Su-un Lee) at the Tischlerei of the Deutsche Oper Berlin, Flaminia (Haydn's Il Mondo della luna) in Munich with the Kammeroper München Orchester, Amore (Gluck's Orfeo ed Euridice) at the Opéra de Dijon, Soeur Constance (Dialogues des Carmélites by Poulenc) and Barberine (Le Nozze de Figaro) at the Opéra Grand Avignon, Orazia (Cimarosa's Gli Orazia e i Curiazi) with the Brandenburgischen Staatsorchester Frankfurt, or the title role of Susanna by Handel at Theater Naumburg.
Invited to give recitals in Austria, Germany, Switzerland, France, Russia and the United Arab Emirates, she has also recently performed with the Monte-Carlo Philharmonic Orchestra for Saint-Saëns' Oratorio de Noël.
Among her projects for the 2019/2020 season are: Yniold (Debussy's Pelléas et Mélisande) at the Opéra de Dijon, Jano (Janacek's Jenufa) at the Théâtre du Capitole de Toulouse.
Sara Gouzy Web site
Photos
View all photos
Videos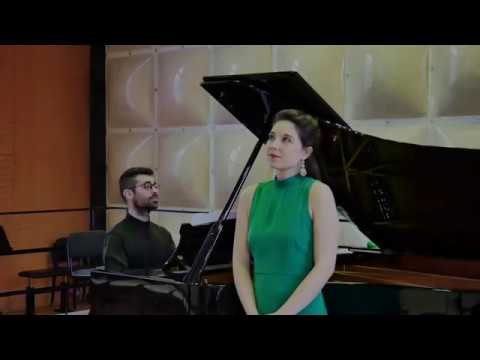 View all videos