Elisa Soster
Soprano
Management: World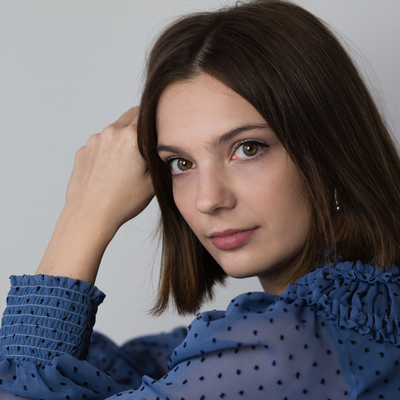 A limpid voice with crystalline high notes
Christian Peter - forumopera.com
Werther - Opéra de Gand 2021
Elisa Soster is a soprano with a large repertoire ranging from early music to contemporary works. During the 2023/2024 season, she will be back at the Opéra Ballet Vlaanderen to create the role of Emelia in the world premiere of Brodeck by Daan Janssens, based on Le Rapport de Brodeck by Philippe Claudel. She also made her debut at the Dutch National Opera in Amsterdam in Aufstieg und Fall der Stadt Mahagonny, by Kurt Weil.
Member of the young ensemble of Opera Ballet Vlaanderen from 2020 to June 2023, she has performed roles such as Sophie in Massenet's Werther, Najade in Strauss' Ariadne auf Naxos, Clio (world premiere of Kruistocht by Neyrinck), Noth (Szenen aus Goethes Faust by Schumann), Giovanna (Ernani by Verdi) and Barbarina (Le Nozze di Figaro).
Among the others roles she had embodied, we can mention Gilda (Rigoletto) at the Magnitogorsk Opera, Serpina (Pergolesi's La Serva Padrona), Sandrina (Mozart's La Finta Giardiniera) and Mélisande in a reduction of Debussy's Pélleas et Melisande.
In concert, she has sung Mahler's Symphony No. 4, directed by Alejo Pérez, Orff's Carmina Burana, Saint John's passion and in various cantatas by J.S. Bach,    Fauré's Requiem, Boccherini's and Pergolesi's Stabat Mater.
Equally passionate about contemporary repertoire, she collaborates regularly with various contemporary music ensembles such as HERMES ensemble and SPECTRA ensemble and with many composers including Nigel Osborne, for whom she created the role of Caterina in the world premiere of Silent City, Wim Henderickx, for whom she sang Revelations, A Matter of Triumph and Void, and was the cover for the title role in his world premiere of The Convert, and Thanos Chrysakis, for whom she premiered his new composition Magnetic Horizon. She also sang Sarah was Ninety Years Old by Arvo Pärt in Meryl Tankard's acclaimed ballet Furioso.
She has performed, among others, at the Opera Ballet Vlaanderen, the Staatsoper Stuttgart, BOZAR, the Grand Théâtre de Luxembourg, the Opera de Lille, the Concertgebouw in Bruges, the Minardschouwburg in Ghent and the Magnitogorsk Opera Ballet and Theatre, under the direction of Giedre Slekyte, Alejo Pérez, Koen Kessels, Marie Jacquot, Duncan Ward, Philippe Herreweghe, Clemens Jüngling, Julia Jones, Alessandro Palumbo and in staging by    David Alden, Ivo van Hove, Guy Joosten, Julian Rosefeldt, Femke Gyselinck, Lukas Dhont, James Bonas, Barbora Horáková, Philine Rinnert et Meryl Tankard.
She studied singing and flute at the Conservatory of the Aosta Valley (Italy). In 2019, she obtained her postgraduate with highest distinction at the International Opera Academy in Ghent (Belgium).
Elisa Soster has been represented by RSB Artists since 2022.
Avant toute utilisation de cette biographie nous vous remercions d'en demander la dernière mise à jour,
par email
.