Elisa Soster
Soprano
Représentation: Monde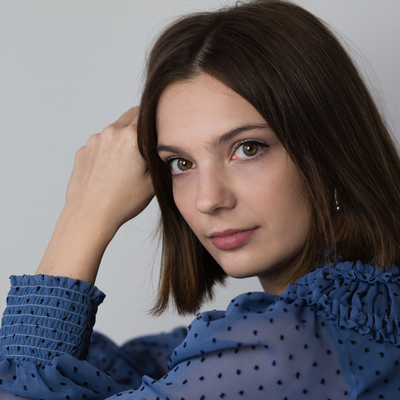 Italian soprano Elisa Soster (1997, Aosta), studied singing and flute at the Conservatory of the Aosta Valley.
In 2019, she obtained her postgraduate with highest distinction at the International Opera Academy in Ghent (Belgium).
As a member of the young ensemble of Opera Ballet Vlaanderen since the 20/21 season, she has performed in operatic roles such as Sophie in Massenet's Werther, Najade in Strauss' Ariadne auf Naxos and Noth in Schumann's Szenen aus Goethes Faust.
Other roles include Gilda in Rigoletto at the Magnitogorsk Opera and Ballet Theatre, Serpina in Pergolesi's La Serva Padrona, Sandrina in Mozart's La Finta Giardiniera and Mélisande in a reduction of Debussy's Pelléas et Mélisande.
In concert, she has sung Mahler's Symphony No. 4, Carmina Burana, Fauré's Requiem, various cantatas by J.S. Bach, Boccherini's and Pergolesi's Stabat Mater.
Equally passionate about contemporary repertoire, she collaborates regularly with various contemporary music ensembles such as HERMESensemble and SPECTRA ensemble and with many composers including Nigel Osborne, for whom she created the role of Caterina in the world premiere of Silent City, Wim Henderickx, for whom
she sang Revelations, A Matter of Triumph and Void, and was the cover for the title role in his world premiere of The Convert, and Thanos Chrysakis, for whom she premiered his new composition Magnetic Horizon. She also sang Sarah was Ninety Years Old by Arvo Pärt in Meryl Tankard's acclaimed ballet Furioso.
She has performed at, among others, Opera Ballet Vlaanderen, the Staatsoper Stuttgart, BOZAR, the Grand Théâtre de Luxembourg, the Concertgebouw in Bruges, the Minardschouwburg in Ghent and the Magnitogorsk Opera Ballet and Theatre, under the baton of Giedre Slekyte, Alejo Pérez, Koen Kessels, Duncan Ward, Philippe Herreweghe, Korneel Bernolet, Filip Rathé and has collaborated with directors David Alden, Ivo van Hove, Guy Joosten, Julian Rosefeldt, Femke Gyselinck, Lukas Dhont, Philine Rinnert and Meryl Tankard.
Future projects include Ernani (Giovanna), the role of Clio in the world premiere of Neyrinck's Kruistocht, Mahler's Symphony No. 4 conducted by Alejo Pérez, Le Nozze di Figaro (Barbarina) at the opera houses of Antwerp and Ghent, and a European tour of Lisaboa Houbrechts' play Grandpa Puss; or how God disappeared, in which Elisa will be singing J.S. Bach's Johannespassion.
Elisa Soster is represented by RSB Artists since 2022.
Avant toute utilisation de cette biographie nous vous remercions d'en demander la dernière mise à jour,
par email
.