Fernando Escalona
Counter-tenor
Représentation: Monde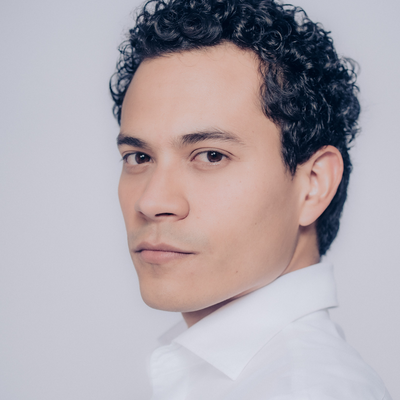 Exceptionnel d'aisance en Néron sybarite et irascible, retors et sensuel. La voix, le style, le jeu, tout y est.
Christian Wasselin - webtheatre.fr
L'incoronazione di Poppea - Théâtre de l'Athénée 2022
Fernando Escalona began his singing studies in the class of Margot Parès-Reyna with El Sistema d'Orchestras de Venezuela, before continuing them with Isabel Palacios at the Camerata Barroca de Caracas. Throughout his training, he attended master classes with Mirella Freni, Katia Ricciarelli, Laura Claycomb, Markus Marquardt, Michael Pinkerton, Gerald Wirth and Chantal Mathias.
In 2015 he sang Beethoven's Choral Fantasy with the Simón Bolivar Orchestra conducted by César Ivan-Lara. In June 2016, he performed as a soloist in Carl Orff's Carmina Burana with the Caracas Youth Orchestra conducted by Christian Vásquez.
In September 2016, he joined the Centre de musique baroque de Versailles under the tutelage of Olivier Schneebelli and participated in numerous ensemble productions such as Salieri's Les Horaces conducted by Christophe Rousset and Rameau's Les Fêtes d'Hébé with the Académie de l'Opéra national de Paris and the Royal College of Music in London under the musical direction of Jonathan Williams and directed by Thomas Lebrun.
In 2018, he was a finalist in the Concours international de chant de Marmande.
Fernando Escalona joins the Paris Opera Academy in September 2019 and makes his debut on the stage of the Palais Garnier in the role of the Second Aunt in Philippe Boesmans' Yvonne, Princesse de Bourgogne, in February 2020; he is awarded the AROP Prize en March 2022.
In recent months, he has participated in numerous concerts at the Palais Garnier, the Amphithéâtre de l'Opéra Bastille, Toulon, the "Voix d'Automne" festival in Evian-les-bains with Leonardo García Alarcón, the "A ciel ouvert" festival at the invitation of Vincent Dumestre's Poème Harmonique, and the Radio-France Montpellier Occitanie Festival with Camille Delaforge's Il Caravaggio ensemble
Parallel to his career as a soloist, he pursues his work as an assistant voice teacher with the National Simon Bolívar Choir of Venezuela, of which he is a founding member and with which he has toured internationally alongside conductors such as Helmuth Rilling, Johan de Meij, Sir Simon Rattle, Claudio Abbado and Gustavo Dudamel.
This season, he will perform the role of Nerone with the Poème Harmonique conducted by Vincent Dumestre at the Théâtre de l'Athénée in Paris, at the Opéra de Dijon and in Amiens, as well as numerous concerts as part of the Paris Opera Academy season.
Fernando Escalona is represented by RSB Artists since 2020.
Avant toute utilisation de cette biographie nous vous remercions d'en demander la dernière mise à jour,
par email
.