Fernando Escalona
Counter-tenor
Représentation: Monde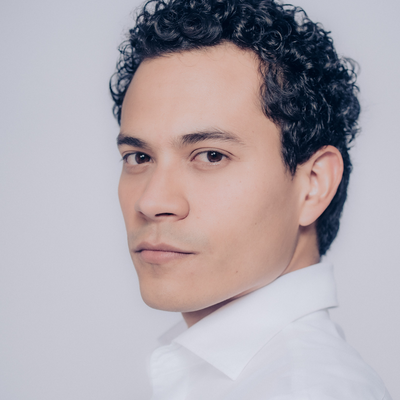 Exceptional ease as Nero, sybaritic and irascible, devious and sensual. The voice, the style, the acting, everything is there.
Christian Wasselin - webtheatre.fr
L'incoronazione di Poppea - Théâtre de l'Athénée 2022
Fernando Escalona began his vocal training in Venezuela with Margot Parès-Reyna at El Sistema, then with Isabel Palacios at the Camerata Barroca in Caracas. He also attended master classes with Mirella Freni, Katia Ricciarelli, Laura Claycomb, Markus Marquardt, Michael Pinkerton, Gerald Wirth and Chantal Mathias.
Soloist in Beethoven's Choral Fantasy with the Simón Bolivar Orchestra (conducted by César Ivan-Lara), then in Carl Orff's Carmina Burana with the Caracas Youth Orchestra (conducted by Christian Vásquez), In 2016 he joined the Centre de musique baroque de Versailles under the tutelage of Olivier Schneebelli and took part in numerous ensemble productions such as Salieri's Les Horaces conducted by Christophe Rousset and Rameau's Les Fêtes d'Hébé, in collaboration with the Académie de l'Opéra national de Paris and the Royal College of Music in London and under the direction of Jonathan Williams
A finalist of the 2018 Marmande International Singing Competition, Fernando Escalona joined the Académie de l'Opéra national de Paris in September 2019 and made his debut on the Palais Garnier stage in the role of the Second Aunt in Philippe Boesmans' Yvonne, Princesse de Bourgogne in February 2020; he was awarded the Prix lyrique de l'AROP (Association pour le Rayonnement de l'Opéra de Paris) in March 2022.
Within the framework of the Académie, he participates in numerous concerts at the Palais Garnier and the Amphitheatre of the Opéra Bastille; He has also appeared as Nerone (L'Incoronazione di Poppea) at the Dijon Opera and at the Théâtre de l'Athénée in Paris with the Poème Harmonique conducted by Vincent Dumestre, as La Morte (Il Trionfo della Morte by Aliotti) with the Traversées Baroques, and at the "Voix d'Automne" festival in Evian-les-Bains with Leonardo García Alarcón, at the Festival Radio-France Montpellier Occitanie with Camille Delaforge's ensemble Il Caravaggio, at the Festival de la Chaise-Dieu with Les Accents conducted by Thibault Noally (Oloferne in La Giuditta), in a programme of Spanish music with Vincent Dumestre's Poème Harmonique, or at the Festival Idéal in the Potager du Roi with pianist Olga Dubynska; This season, he will also perform the role of Licida (Vivaldi's L'Olimpiade) with the Ensemble Matheus conducted by Jean-Christophe Spinosi.
In addition to his solo career, he continues to work as an assistant singing teacher with the Simón Bolivar National Choir of Venezuela, of which he is a founding member and with which he has toured internationally with conductors such as Helmuth Rilling, Johan de Meij, Sir Simon Rattle, Claudio Abbado and Gustavo Dudamel.
Fernando Escalona is represented by RSB Artists since 2020.
Avant toute utilisation de cette biographie nous vous remercions d'en demander la dernière mise à jour,
par email
.