Jérôme Correas
Conductor
Représentation: World except Italy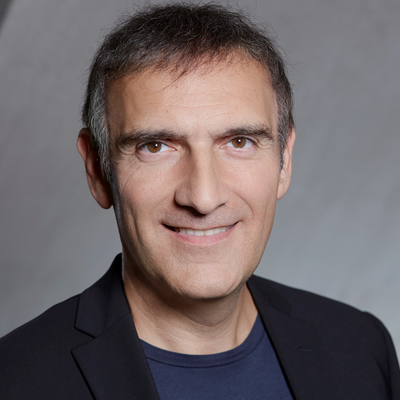 L'orchestre, ductile, clair, remarquablement conduit par Jérôme Corréas, est un partenaire exemplaire, qui offre un écrin aussi admirable que la voix de la soliste.
Yvan Beuvard - forumopera.com
CD "Enchantresses" - Alpha-classics 2020
Jérôme Correas began studying piano at the age of five, and rapidly developed a passion for the harpsichord. He studied with Antoine Geoffroy-Dechaume, whose teaching based on improvisation and rhythmic flexibility marked him deeply.
His great interest in singing led him to present the entrance competition to the Paris Conservatory. There, he won First Lyric Art Prize in the class of Xavier Depraz and First Singing Baroque Prize in the class of William Christie. The latter noticed his talent and allowed him to make his debut at the Aix-en-Provence festival, in the Fairy Queen, under his direction. Since 1989, Jérôme Correas became a member of Les Arts Florissants until 1993.
To diversify his activities Jérôme Correas studied with René Jacobs at the Studio Versailles Opera and then integrated the singing school of the Paris Opera on the recommendation of Régine Crespin from 1992 to 1994. He then worked under the direction of many conductors specialised in baroque repertoire and then lyrical : William Christie, Sigiswald Kuijken, Jean-Claude Malgoire, Christophe Rousset,Christophe Coin, Michel Corboz, Herve Niquet, Jean-Christophe Spinosi, Marek Janowski, Sylvain Cambreling, Philippe Entremont, Marco Guidarini, Jesus Lopez-Cobos , Donato Renzetti, Jean-François Heisser, François-Xavier Roth, Arie Van Beek. During his career, he also favored the interpretation of French melody that he sang in France and in many tours in the United States with Jean-Claude Pennetier, Claude Lavoix, Philippe Bianconi, Jean-François Heisser, Marie-Josèphe Jude, Jeff Cohen.
In 2001 Jérôme Correas founded Les Paladins, vocal and instrumental ensemble that mainly explores the dramatic repertoire of the seventeenth and eighteenth centuries from Monteverdi to Mozart.
With directors like Dan Jemmett, Christophe Rauck, Vincent Tavernier, Vincent Vittoz, Irène Bonnaud, Mireille Larroche ou Jean–Denis Monory, Bernard Levy ou Jean-Pierre Baro, he created many french, itlian or english operas by Monteverdi, Cavalli, Rossi, Marazzoli, Haydn, Paisiello, Purcell, Marin Marais, Destouches or Rameau and Gretry. He recorded 30 discs or so and performed in many theatres or festivals in France and abroad.
Because of his twofold career as a singer and as a harpsicordist, Jérôme Correas was able to propose a very personal interpretation of this repertoire based on theatricality, phrasing and rubato and on his research on the « Parlé - Chanté » (« Speaking – Singing ») style which is particularly adapted to the Italian opera of the seventeenth century.
He passes on his research as a guest conductor : Orchestre de l'opéra de Rouen (La Vera Constanza de Haydn, staging direction by Elio de Capitani), Chamber orchestra Israël Camerata (Pergolese Stabat Mater), Moscow Chamber Orchestra (Haendel, Mozart), St Petersbourg Baroque orchestra (Acteon by Charpentier), Baleares Symphonic Orchestra (Vivaldi, Haendel, Gluck), Catane Opera orchestra (re-creation of Fedra of Paisiello for the re-opening of the Teatro Massimo Bellini), Paris Conservatory orchestra, Paris Notre-Dame Maîtrise, Namur Chamber choir.
In march 2022 Jérôme Correas will conduct the Nice Opera Philharmonic Orchestra and choir in Phaeton by Lully en mars 2022, and a stage direction by Eric Oberdorff.
Very found of transversality, He likes to provoke confluences between arts corssing ancient music and new technologies (ORFEO 5063 asociating Monteverdi's music and numerical arts produces by Guillaume Marmin).
Jérôme Correas is represented by RSB Artists since 2022.
Avant toute utilisation de cette biographie nous vous remercions d'en demander la dernière mise à jour,
par email
.