Amandine Ammirati
Soprano
Management: World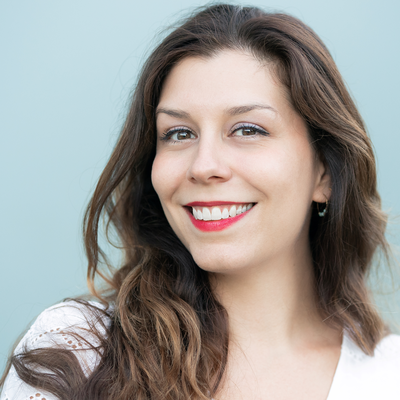 Rich and enveloping high notes
Mathieu Sariman - olyrix.com
Le Miroir d'Alice - Opéra de Reims 2018
Member of the Studio de l'Opéra national de Lyon for the 2020/2022 seasons, the soprano Amandine Ammirati sang in the main stage the role of Bellangère (Ariane et Barbe-Bleue by Dukas) in a staging by Alex Ollé, then Javotte (Manon by Massenet) in a concert version at the Auditorium National de Lyon and at the Théâtre des Champs-Élysées.
On stage, she has also performed the roles of Rosalinde (Die Fledermaus) with the Orchestre National de Lyon, Second Lady (Die Zauberflöte) at the Opéra de Reims, Cleopatra (Giulio Cesare in Egitto) with Les Nouveaux Caractères, and the Woman of the Innkeeper (Der Traumgörge by Zemlinsky) at the Opéra National de Lorraine, Blanche (Dialogues des Carmélites) at the CNSMD in Lyon under the direction of Mireille Delunsch, Micaëla (Carmen) in Reims in a version adapted by David Walter, Flamma (Le Voyage de la lune) in Metz and Reims or in Agata (Il Flaminio by Pergolesi) at the TNP in Villeurbanne under the stage direction of Christian Schiaretti.
She was a soloist with the Street Chorus (Bernstein's Mass) at the Auditorium du Nouveau Siècle in Lille under the direction of Alexandre Bloch and has performed in recital with the Orchestre de l'Opéra de Reims (conducted by Yann Molénat), as well as at the Festival du Forez and at the festival Les Pianissimes.
Born into a family of opera artists, Amandine Ammirati has been immersed in opera from an early age; it was therefore natural for her to turn to the artistic world.
In parallel with her studies at the Conservatoire National de Musique et de Danse de Lyon, where she obtained a singing Master's degree in 2021 in the class of Isabelle Germain and Fabrice Boulanger, she perfected her skills with great artists such as Philippe Jaroussky, Ludovic Tézier, Béatrice Uria-Monzon, Malcolm Walker, as well as with David Selig, Francis Perron, Philippe Cassard, Hartmut Höll for the art of Lied and French melody.
She was also part of the Ravel Promotion of the Académie Musicale Philippe Jaroussky for the 2019-2020 season, was named "Classical Revelation 2019" by ADAMI and is currently studying at Cécile de Boever's Pôle lyrique d'excellence.
To be noticed this 2023/2024 season : Ines (Il Trovatore) at the Opéra de Saint-Étienne and Barbarina (Le Nozze di Figaro) at the Opéra de Marseille.
Amandine Ammirati is represented by RSB Artists since 2020.
Avant toute utilisation de cette biographie nous vous remercions d'en demander la dernière mise à jour,
par email
.