Amel Brahim-Djelloul
Soprano
Management: World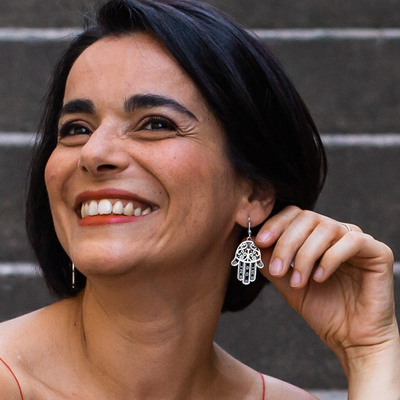 « Arias masterly sung (...) Expressive, fresh, luminous as well as resolute, we have here a beautiful incarnation. »
Yvan Beuvard - Forumopera.com
Idomeneo - Opéra théâtre de Metz 2022
Soprano Amel Brahim-Djelloul continues her luminous and singular path, rich in her two cultures. The 2023/2024 season bears witness to this, with concerts once again featuring her on the CD « Les chemins qui montent », a program based on songs from Kabylia and compositions by Thomas Keck, as well as with the Orchestre Pasdeloup, the ensembles Les Paladins and C Barré, guitarist Thomas Keck and pianist Nicolas Jouve.
A graduate of the CNSMD in Paris, as well as of William Christie's "Jardin des Voix" and nominated in the "Most promising lyrical artist" category of the Victoires de la Musique classique 2007, she quickly sang many roles of the repertoire: Susanna (Le Nozze di Figaro) at Angers-Nantes Opéra and at the Opéra de Lausanne, Despina (Così fan tutte) at the Opéra de Nice, Servilia (La clemenza di Tito) at the Opéra de Paris and the Festival d'Aix en Provence, but also The Princess (L'Enfant et les sortilèges), Ninette (L'amour des trois oranges) and Suor Genovieffa (Suor Angelica) at the Opéra de Paris, the title role of Messager's Véronique at the Théâtre du Châtelet, Gabrielle (La Vie Parisienne) at Angers-Nantes Opera, Nanetta (Falstaff) at the Théâtre des Champs-Elysées, Adina (L'Elisir d'Amore) and Pamina (Die Zauberflöte) at the Opéra d'Avignon, Andreloun (Mireille) at the Chorégies d'Orange, Hébé, Fatime and Phani (Les Indes Galantes) at the Opéra national de Bordeaux and the Concertgebouw in Bruges, or Drusilla, Amore and Valletto in various productions of L'Incoronazione di Poppea (Opéra de Paris, Théâtre des Champs-Elysées, Berlin Staatsoper, Théâtre de la Monnaie in Brussels, Grand Théâtre de Genève, Opéras de Lille and Dijon), to name a few.
Regularly invited by many orchestras (Orchestre national de France, National Symphony Orchestra of Washington, Orchestre Philharmonique Royal de Liège, National Philharmonic Orchestra of Ukraine, Orchestre Philharmonique de Strasbourg, Orchestre des concerts Pasdeloup, Orchestre Symphonique National Algérien, Orchestre national d'Ile-de-France, Orchestre Philharmonique du Maroc...) and ensembles (Les Arts Florissants, Le Poème Harmonique, Les Paladins, Il Caravaggio, 2E2M, Mezwej, Les Talens Lyriques, Quatuor Debussy...), Amel Brahim-Djelloul broadens each season her range of personal projects which often link East and West, such as the programs "L'Orgue du Sultan" (with Achéron and Sultan Veld), "Les 1001 Lunes de la Princesse Boudour" (with Aymeric Lecerf and Nicolas Jouve), the "Populaires" recital (with Nicolas Jouve), "Canciones" (with C Barré) as well as her Mediterranean programs with the Amedyez Ensemble.
Her discography includes numerous opuses, like recitals with pianists Anne Le Bozec ("Les 1001 nuits") and Nicolas Jouve ("Populaires"), as well as a program of works from the Arab-Andalusian heritage ("Amel chante la Méditerranée") adapted by her brother, violinist and musicologist Rachid Brahim-Djelloul, and performed with the Amedyez Ensemble.
Amel Brahim-Djelloul is the artistic director of the association Nour with whom she sets up various projects ranging from teaching to the production of new shows and recordings.
She has been represented by RSB Artists since 2010.
Avant toute utilisation de cette biographie nous vous remercions d'en demander la dernière mise à jour,
par email
.