Andreea Soare
Soprano
Représentation: Monde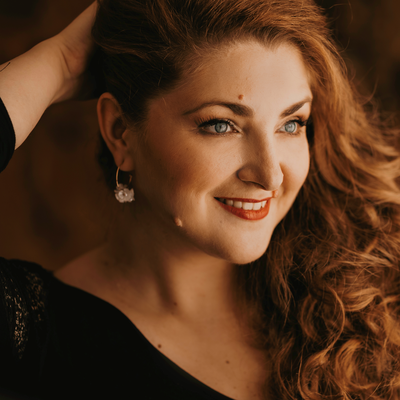 Wide and blossoming on all the tessitura, sonorous without seeming forced, the voice weaves a line of singing of an exquisite nobility, serving the Mozartian virtuosity.
Pierre Géraudie - olyrix.com
Cosi fan Tutte - Opéra de Dijon 2022
The Franco-Romanian soprano Andreea Soare, who studied at the CNSMD in Paris and then at the Atelier Lyrique of the Opéra national de Paris, has received numerous awards (HSBC Prize at the Académie Européenne de Musique Mozart/Haendel, Prix Lyriques of the Cercle Carpeaux and of AROP, laureate of the International Singing Competition of Clermont-Ferrand, prize of the "Friends of the Aix-en-Provence Festival").
On the stage of the Opéra national de Paris she has been heard as Erste Dame (Die Zauberflöte), Countess Ceprano (Rigoletto), First Nymph (Rusalka), Enrichetta (I Puritani) and as a young girl (La Cerisaie).
A regular guest of the Théâtre du Capitole in Toulouse, she has appeared as Erste Dame (Die Zauberflöte), Mélisande (Ariane et Barbe bleue), the first flower-girl (Parsifal), Berta (Il Barbiere di Siviglia).
She was the Countess Almaviva (Le Nozze di Figaro) and Donna Elvira (Don Giovanni) at the Cologne Opera, Fiordiligi (Cosi fan tutte) at the Dijon Opera, the Bucharest National Opera and the Garsington Opera, Pamina (Die Zauberflöte) at the Toulon Opera, and Iphigénie (Iphigénie en Tauride) at the invitation of the Paris Opera Workshop.
She has given recitals at the Festival d'Aix-en-Provence, the Palais Garnier, the Auditorium du Louvre, the Théâtre du Capitole in Toulouse, the Folle Journée in Nantes, Carnegie Hall in New York, Tokyo...
She has performed with the Orchestre de l'Opéra national de Paris, the Orchestre philharmonique de Strasbourg, the Orchestre national de Varsovie, the Orchestre d'Auvergne, the Orchestre de Pau, in works such as Strauss's Vier letzte Lieder, Berlioz's Nuits d'été, Debussy's La Damoiselle élue, Dvorak's and Poulenc's Stabat Mater or Mozart's Coronation Mass.
For her 2022/2023 season, she will perform Musetta (La Bohème) at the Théâtre du Capitole de Toulouse, Comtessa (Le Nozze di Figaro) at the Idéal au potager du roi festival, Donna Elvira (Don GIovanni) at Nuits lyriques de Sanxay.
Andreea Soare has been represented by the RSBA agency since 2022.
Avant toute utilisation de cette biographie nous vous remercions d'en demander la dernière mise à jour,
par email
.