Anna Reinhold (W)
Mezzo-soprano
Jardin des Voix (William Christie) 2011
Choc Classica "Labirinto d'Amore"






« […] les deux superbes voix de (...)et d'Anna Reinhold (Lisetta), au très beau timbre, élégant et d'une rare douceur […] » (L'education musicale.com – mai 2013)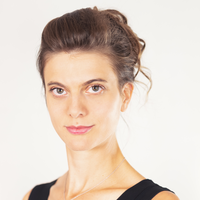 After studying at the CNSMD in Paris and the University of Vienna, Anna Reinhold made her stage debut under the direction of William Christie; selected to be part of the Jardin des voix, academy of Les Arts Florissants, she sang the role of Cybèle in the recreation of the mythical production of Atys (Lully), at the Opéra Royal de Versailles and at the Brooklyn Academy of Music in New York. Numerous collaborations with Les Arts Florissants followed: the Witch in Dido and Aeneas, Damon in Acis and Galatea (Handel), Proserpine in La Descente d'Orphée aux Enfers (Charpentier), a recital of Rameau arias at the Konzerthaus in Vienna and the Mariinsky Theatre in St Petersburgh, and concert tours and recordings of the "Airs sérieux et à boire" program.
Since then she has collaborated with various conductors and ensembles; Raphaël Pichon and his Pygmalion ensemble (Hippolyte et Aricie by Rameau, Hohe Mass by Bach), Vincent Dumestre and the Poème Harmonique ("Danza" program), Simon-Pierre Bestion and the ensemble La Tempête (Vespers by Monteverdi, Cantigas by Ohana and various chamber music projects), Geoffroy Jourdain and the Cris de Paris (Gloria by Vivaldi), Ryan Brown and Opéra Lafayette in Washington and New York (Catone in Utica by Vivaldi and the "Visitors to Versailles" program), John Butt and the Edinburgh Orchestra (Charpentier's Medea), Josh van Veldhoven and the Bachvereniging in Holland (Bach's Hohe Mass), the Orchestre d'Auvergne conducted by Jonathan Cohen (Vivaldi's La Senna festeggiante), the Cetra Barockorchester Basel conducted by Andrea Marcon (Bach's Hohe Mass), Hugo Reyne and the Simphony of the Marsh (Pergolesi's Stabat Mater and Scarlatti's Salve Regina), the Frivolités parisiennes and Marc-Olivier Dupin at the Opéra Comique (Marc-Olivier Dupin's Le Mystère de l'écureuil bleu), and Patrick Cohen Akénine and the Folies françoises.
Among her most faithful collaborations we can also mention those established in recent years with Leonardo García Alarcón's Cappella Mediterranea, as well as with the late Jean-Claude Malgoire.
With the first, she notably participated in the creation of Cavalli' Elena at the Festival d'Aix en Provence, then toured again, recorded Cavalli operas with Marianna Flores, sang Speranza and Proserpine (L'Orfeo by Monteverdi) on tour in Europe and Latin America and Pandora (El Prometeo by Draghi) at the Opéra de Dijon.
Alongside the second, after singing the title role in Rossini' L'italianna in Algeri at the Théâtre des Champs-Elysées and Tourcoing in 2016, she returned to it last season in Bach's Magnificat and for her debut as Mélisande (Pelléas et Mélisande by Debussy), at the Théâtre de Tourcoing, two productions directed by Christian Schiaretti.
In addition to her involvement in baroque music, Anna Reinhold is fond of several other styles; she is a regular guest at chamber music festivals such as Les Musicales de Colmar where she has performed the Pierrot Lunaire (Schönberg), the Wesendonck Lieder (Wagner) or the Lieder eines fahrenden Gesellen (Mahler) with chamber orchestra, the Kaposvar festival and the Budapest festival Academy in Hungary where she performed with pianist José Gallardo - she sang among other, Kurtag's Les Scènes d'un roman-, at the Cork festival in Ireland where she sang Janaček's The Diary of One Who Disappeared alongside Mark Padmore and pianist Julius Drake; she also performed in a "Purcell" program with the soloists of the Concert d'Astrée in Dunkerque and Saint-Michel en Thiérache.
She also founded the ensemble Il Caravaggio with harpsichordist Camille Delaforge, which can be heard in France and abroad in French and Italian baroque repertoires, performs in duo with lutenist Thomas Dunford, with whom she recorded the beautiful album "Labirinto d'amore", which won a "Classica Shock" award, as well as with guitarist and lutenist Quito Gato in both baroque ("Lagrime mie") and popular ("Mi corazón espanol") programs.
Since 2013, in addition to her strictly artistic activity, she has been teaching at the Institut de Sciences politiques de Paris.
Her recordings include Bach's Hohe Mass with the Pygmalion Ensemble under the direction of Raphaël Pichon at Alpha (Diapason d'Or), the recital "Labirinto d'Amore" (Choc Classica) with lutenist Thomas Dunford at Alpha, "Heroines of the Baroque Venetian" devoted to Cavalli operas, alongside Mariana Flores and Cappella Mediterranea conducted by Leonardo García Alarcón (Diapason d'Or), "Bien que l'Amour" (Diapason d'Or and Choc Classica), a program of "Airs sérieux et à boire" with Les Arts Florissants under the direction of William Christie, "Les Orphelines de Venise", a program of sacred works by Vivaldi, with the Cris de Paris under the direction of Geoffroy Jourdain for the Ambronay label, or "Azahar-Cantigas" by Ohana with La Tempête ,directed by Simon-Pierre Bestion, at Alpha.
Among her projects for the 2018/2019 season are: Mendelssohn's A Midsummer Night's Dream at the Seine Musicale with Accentus and Insula Orchestra (conducted by Laurence Equilbey), a European tour with the "Airs sérieux et à boire" program and the Arts Florissants, Bach's Matthaüs Passion with the Balearic Islands Simphony Orchestra in Majorca and La Senna Festeggiante by Vivaldi with the Arcangelo ensemble at Wigmore Hall in London (both conducted by Jonathan Cohen), the cantata Phaedra (Britten) with the Normandy Regional Orchestra, the "Danza" programme with the Poème Harmonique in Rouen, concerts with the Il Caravaggio ensemble, as well as the role of the Second Camerist in Der Zwerg (Zemlinsky) at the Théâtre de Caen.
Photos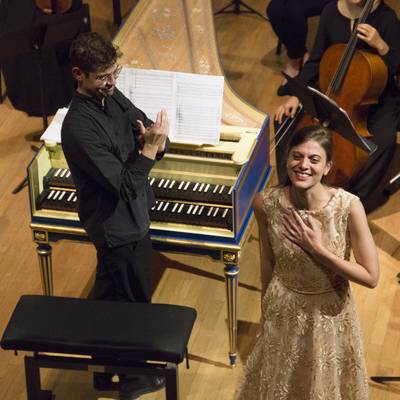 View all photos
Videos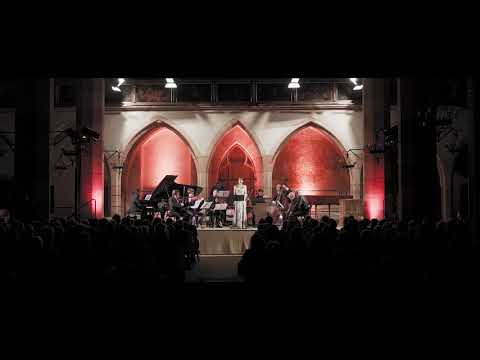 View all videos