Séraphine Cotrez
Mezzo-soprano
Management: World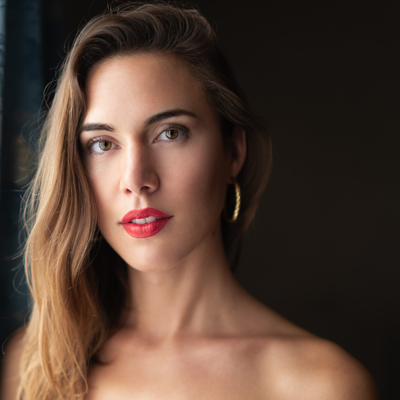 Special mention also for the tone of Séraphine Cotrez, perfectly equal on all the range of the voice.
Pierre Degot - olyrix.com
Carmen - Opéra national du Rhin 2021
During her 2023/2024 season, mezzo soprano Séraphine Cotrez embodies the role of Mercedes (Carmen) once again, this time on a European concert tour with René Jacobs ; She will also be heard at the Atelier lyrique de Tourcoing in the revival of Zémire et Azor given last June at the Opéra Comique, as well as in Pergolesi's Stabat Mater with Les Paladins and Mozart's Mass in C with the Orchestre Philharmonique de Montpellier.
After studying Applied Arts, Séraphine Cotrez turned to music and studied singing ; with a full and expressive mezzo-soprano voice, she first trained in Paris with baritone Yann Toussaint, then at the Conservatoire National Supérieur de Musique et de Danse de Lyon (class of Françoise Pollet), from which she graduated with a Master's degree in opera singing in 2019.
During her studies she also studied at the Universität der Künst in Berlin in the class of Julie Kaufmann and Peter Maus, with whom she refined her knowledge of the German repertoire. She deepened her approach to French melody at the Orford Academy in Canada with Rosemary Landry and Francis Perron, and at the Académie Poulenc in Tours with François Le Roux, Christian Ivaldi, Jeff Cohen and Nicolas Kruger. Wishing to perfect her mastery of the French repertoire, then joined François Le Roux's class in the specialised certificate in French vocal art at the École Normale Supérieure de Musique Alfred Cortot in Paris.
She has already appeared as Carmen at the Opéra de Vichy, the Kitchen Boy (Rusalka) at the Opéra national de Toulouse, Oenone (Hippolyte et Aricie) and Fatimé (Zémire et Azor by Grétry), Mercedes (Carmen) at the Opéra national du Rhin, Karolka (Jenufa) at the Opéra de Rouen, Annina (La Traviata) at the Opéra de Limoges, Clorinda (Il Combattimento di Tancredi e Clorinda), Venus (Il ballo delle ingrate) and Dardano (Amadigi) with Les Paladins conducted by Jérôme Correas, and Clotilda (Norma) with the Orchestre Philharmonique du Maroc.
In the concert repertoire, she was heard in Mozart's Mass in C minor with the Orchestre de Cannes Provence-Alpes-Côte d'Azur (conducted by Nicolas Krüger), Beethoven's Mass in C with the Orchestre de Massy (conducted by Constantin Rouits), Rachmaninov's Vespers at the Philharmonie de Paris, or in an opera arias programm alongside the Orchestre Philharmonique du Maroc.
Séraphine Cotrez has been represented by RSB Artists since 2019.
Avant toute utilisation de cette biographie nous vous remercions d'en demander la dernière mise à jour,
par email
.