William Shelton
Counter-tenor
Représentation: Monde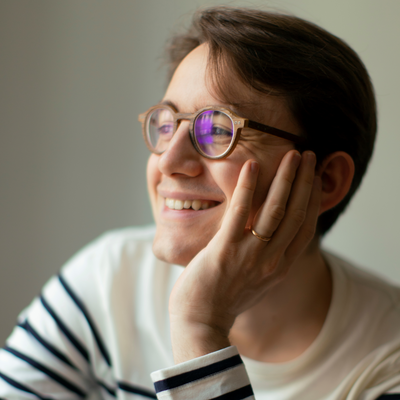 A warm sounding voice, with a rare purity of emission, always at the service of the text and its music.
Yvan Beuvard - forumopera.com
Festival Radio-France de Montpellier 2022
Artist in residence at the Queen Elisabeth Music Chapel until 2024, where he has the opportunity to receive guidance from Sophie Koch and José Van Dam, the Franco-British countertenor William Shelton was previously a member of the first class of young singers at the Académie Philippe Jaroussky in 2017.
He is a laureate of several international competitions: "Young Artist Award" at the Cesti Baroque Opera Competition in Innsbruck, 2nd Prize at the Froville Baroque Singing Competition, 1st Prize at the "World Bach Competition" of the Boulder Bach Festival, Audience Prize and the "Young Talents" Association Prize at the Corneille Competition in Rouen (chaired by Andreas Scholl).
After graduating in organ, horn and singing from the conservatories of Besançon and Dijon, his path leads him to benefit from the advice of Hans Jörg Mammel, Jan Kobow, Michel Laplénie, Isabelle Druet, Robert Expert, Regina Werner, Sara Mingardo, Felicity Lott, Margot Modier, Marijana Mijanovic, Mickaël Mardayer, Philippe Jaroussky and Stéphane Degout.
He quickly established himself in numerous French ensembles such as Les Cris de Paris, La Tempête, Les Arts Florissants, Pygmalion, La Fenice, Alia Mens, Correspondances, Les Musiciens de Saint-Julien, Les Voix Animées, but also abroad with Vox Luminis, Collegium Vocale Gent, Scherzi Musicali, Balthasar Neumann Ensemble & Chor, La Cetra Barockorchester Basel, La Capella Reial de Cataluña or Gli Angeli.
On stage he has performed the roles of Messaggiera (Euridice by Caccini) with Scherzi Musicali in Brussels and Timisoara (Romania), Arsamene (Serse by Handel) with Opera Fuoco in China (Beijing, Shen-Zhen and Nanjing) and Apollo (Psyche by Locke) with the Ensemble Correspondances (Opéra de Versailles, Caen and Théâtre d'Hardelot).
It is above all in Johann Sebastian Bach, his favourite repertoire, that his sensitivity expresses itself most naturally, through the cantatas and oratorios (Johannespassion, Matthäuspassion, H-moll mass, Magnificat, Weihnachtsoratorium), sung as a soloist under the baton of Raphaël Pichon, Paul Agnew, William Christie, Olivier Spilmont, Jean Tubéry, Stephan MacLeod, Valentin Tournet, Philippe Herreweghe, Bart Van Reyn, Jordi Savall and Thomas Hengelbrock.
Fond of chamber music, he created a piano-voice duet with his friend Bastien Dollinger, winning together the Opéra Grand Avignon Prize at the Gordes song competition presided over by Sophie Koch. They were subsequently invited to perform in recital in Avignon as part of the Apér'Opéra concerts, and as part of the "Jeunes Talents" programme at the Petit Palais in Paris.
For the 2022/2023 season: tours with the ensembles Pygmalion (Bach programme), Vox Luminis (Magnificat and St Matthew Passion), concerts with the ensembles Musica Getutscht, Bach Verein Köln, A Nocte Temporis, Alia Mens, Résonances, L'Escardon volant de la Reine, Caravansérail, Les Ambassadeurs, or the role of the President in Carmen, cours d'assise, based on Bizet's opera.
William Shelton is represented by RSB Artists since 2022.
Avant toute utilisation de cette biographie nous vous remercions d'en demander la dernière mise à jour,
par email
.